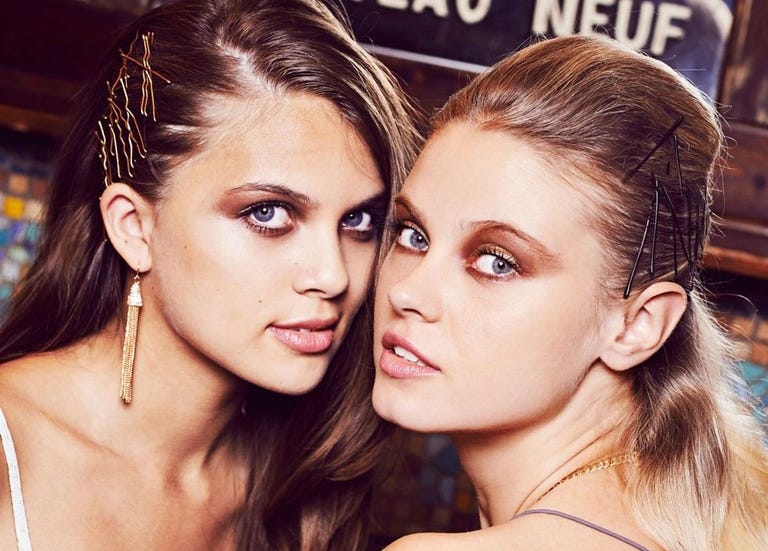 1. Prevent an updo meltdown. Stash a mini can of hairspray and a few bobby pins at the bottom of your purse. When your hair feels like it's about to fall, spritz a bobby pin with hairspray and tuck it into your updo. The hairspray makes the pin hold to your Grad hair for extra reinforcement.
2. Swipe foundation on your ears. Otherwise, when you're 1,000 degrees from dancing all night, your ears may redden from the heat and you'll look two-tone in all your Insta photos. 😒
3. Brighten your smile. Two weeks before Grad, swap your regular toothpaste for a whitening one that removes surface stains and protects your teeth from further yellowing. Brush for at least two minutes at a time, and avoid dark soda, coffee and tea.
4. Crank up your glow. If your dress is strapless or mini, slather on a lotion with a shimmering tint, then dust shoulders and collarbones with a bronzing powder for an extra dose of radiance.
5. Double up on hairspray. The secret to getting an updo to last all night is to apply hairspray beforeand after styling to give your strands that extra stick.
6. Smell ~irresistible~ all night. Just pat on a teeny amount of Vaseline to areas you normally spritz — your neck, back of wrists, etc. The Vaseline gives the perfume something to hold on to, so it will linger all night long.
7. Keep oil blotting papers handy. Sweat and oil can cause makeup to slip off, so stash blotting papers in your prom-night clutch for touch-ups. Avoid piling on powder, which can look cakey.
8. Fill in your brows. You don't need to go Cara Delevingne-crazy, but pro makeup artists swear that strong brows make the biggest difference in how you look in professional photos. And by professional photos, we mean the 10,000 your mom will insist you take.
9. Nix a grad-night pimple fast. If you wake up on prom day with an unwelcome visitor on your face, stash a Q-tip soaked in eye drops in the freezer for an hour. Then rub it on your pimple. The combo of the cold and the eye drops constricts blood vessels to immediately reduce redness and soothe irritation.
10. Fix streaky faux tan lines. Mix together freshly squeezed lemon juice with a few teaspoons of baking soda until the powder becomes a paste — the lemon juice is an ultra-mild lightener and the baking soda is a natural exfoliant. Then take a shower and scrub areas of streakiness with the mixture until the unwanted tan lines disappear.
11. Turn to the right in photos. For whatever reason, researchers say the left side of your face shows more emotion and looks more flattering in pics, so it's basically the easiest way ever to look ~hotter~ in your prom pics.
12. Use the eyeshadow trick pros swear by. For a big event, always use a cream shadow instead of a powder, because the texture looks richer. To make it last until the 2 a.m. after-party, use a little translucent powder or a thin layer of concealer underneath the shadow.
13. Bring a little extra shadow with you, just in case. Load a Q-tip up with product and stash it in a plastic baggie for emergency touch-ups later in the night.
14. Use painter's tape to clean up the aftermath of a smoky eye. All those shadow flakes hanging out under your eye? Dab painter's tape on your skin to gently lift them off. The tape is just strong enough to remove the excess makeup, but not so strong that you'll pull off your foundation, too.
15. Brush your lips (seriously). Before applying a bold color, remove any dry flakes on your lips by brushing them with a toothbrush.
16. Give your makeup a selfie-run. Take a few photos of yourself after you do your makeup to catch things you don't see in the mirror, like if your shimmer is catching the light in a weird way, or if your contouring looks clown-ish.
17. Try a two-step lipstick application. Apply one shade all over your mouth, and then dot-and-blend a lighter color in the middle of your lips. The contrasting shades create dimension that makes your lips look hella full.
18. Tame your baby hairs. Spritz a toothbrush with aerosol hairspray, then use it to clean up stray hairs along your part and hairline. This works wonders if pesky flyaways are attempting to escape from your updo.
19. Say "prune" in pictures. Mary-Kate and Ashley Olsen reportedly say this word to nail that perfect close-lipped sneaky smile. It sounds ridiculous, but it also works.
20. Set your nail art like a pro. It sounds crazy, but using candle wax as glue makes 3D nail appliques last twice as long! Scrape off soft wax with a toothpick and dab onto the back of the mini crystals. Press them onto wet nails, and the wax will harden with the polish.
21. Blast your mani with a shot of cold air to help it dry faster. You have zero time to spare when you're getting ready, so get in front of your AC or use the cool button on your blow-dryer. The cold air hardens polish fast (just like in salons), making it last longer.
22. Cover a prom-night pimple with primer. If you've got a zit that won't quit, dab eyeshadow primer on top of it to create a velvety surface and then apply your regular foundation on top of it. The primer is a long-lasting alternative to concealer, which can look flaky and rub off on an inflamed zit.
23. Half your lashes. Your fake ones, that is. Strip lashes are tricky to apply unless you have a lot of practice, so cut a strip and apply the half-pieces to the outer corners of your eyes for a super flirty look.
24. Spritz your neck. There's one last thing you should do before you head out the door: Spray perfume at the nape of your neck.Hair holds fragrance longer than skin, so the sweet smell will last past the dance.
25. Get the perfect winged liner. We know, the flirty look isn't as easy as bloggers and YouTubers make them look! Use a piece of scotch tape to get that winged liner on lock.
26. Apply foundation in the center of your face and blend outward. This helps you get a natural-looking application and is extra important if you're sweeping your hair into an updo.
27. Make your eyelashes look amazingly long. Step one: Blast your eyelash curler with a hair dryer for two seconds so it heats up just a tick. Step two: Curl your lashes and apply mascara as usual. Step three: Look like a devastating bombshell.
28. Prepare for a downpour. Don't think of rain as a hair-ruiner — think of it as a chance to carry this cute DIY umbrella. 😀
29. Remove lipstick from your dress. If disaster strikes in the form of rogue lipstick, use shaving cream to fix it. It sounds weird, but white shaving cream is nothing more than whipped soap that rinses easily and is gentler than straight suds. Just dampen the stain with a little bit of water and use a cloth to rub in the shaving cream. Then wipe away with a damp cloth.
30. Kill late onset frizz. Run a dryer sheet over your strands to minimize static.
31. Blot your lips the right way. Apply a coat of lipstick, blot, and then apply a second coat. Doing so removes excess oil on your lips from the first application, so that the second one grips it better and will last all night.
32. Whiten your teeth in literally two seconds. A lipstick with blue undertones will make your teeth seem whiter. Plums, cherry, reds, purply pinks, or any shade with a silvery shimmer will do the trick.
33. Wearing your hair down? Give yourself a DIY deep-conditioning treatment. For shine-bright-like-a-diamond hair, comb deep conditioner through damp, clean hair and wrap your head with a towel. Let it penetrate for 10 minutes, then rinse with cool water. 💎
34. Try this trick for flawless skin allover. Help blemishes or skin discolorations look less noticeable with a gold-flecked lotion, which deflects light away from any blemishes and gives skin a sexy sheen. Use it on bare skin, then wait 10 minutes before you step into le dress.
35. Max out your volume. The night before prom, use a clarifying shampoo — it will remove any residue, so you get major volume.
36. Get the perfect smoky eye. Draw a hashtag on the outer corner of your eyelid and smudging it out with the sponge. Keep drawing hashtags and smudging it out to get a darker, smokier look.
37. Apply deodorant to the sides of your feet. It will help prevent blisters from dancing in your heels all night.
38. Find those cheekbones. To determine where you should be dusting on bronzer powder, line up a cotton swab right below your cheekbone. Once you've found the correct placement, lightly trace the line of the Q-Tip with another cotton swab tip coated in bronzer. Then blend the bronzer in with another clean cotton swab tip (tugged on for that cotton candy-like texture) to diffuse the color for a more natural look.
39. Hold off on the shine coat. In photos, glossy lipstick can reflect light and create the appearance of a weird white dot on your mouth. Stick with a matte lip color and then layer something shiny on top later in the night if you want.
40. Get bobby pins to stay put. For better grip, flip the bobby pin over so the wavy side is against your head. If you have a hard time keeping your bobby pins in place, try flipping the pin over. The straight side is slicker and won't grip as well as the wavy, more textured side.
41. Use baby powder to lengthen your lashes. Skip the falsies! To get crazy long lashes without any glue, apply one coat of your favorite mascara. Then, use a Q-tip to dust baby powder all over your lashes, and apply a second coat of mascara. The baby powder will stick to your lashes to create natural extensions.
42. Put your school ID to work. You probably have to bring your school ID to get into prom anyway, so the piece of plastic may as well help you put on mascara. Hold your school ID or a credit card underneath your lashes, then go crazy with the mascara. Your lashes will get properly coated, but any excess mascara will end up on the card, instead of your face. Just make sure the card is clean first.
43. Don't rub your wrists together. Everyone has their usual perfume routine, but def avoid the common mistake of rubbing your wrists together after a spritz.Doing this forces the top notes to disappear faster than intended, so your fragrance won't last as long.
44. Get instant hair thickness. Dust an eyeshadow (in the same color family as your hair) along your part to shade your scalp slightly, making your hair appear thicker. This will also make your hair look super-thick in all of those insta pics!
45. Use cold green tea bags to decrease puffiness under your eyes. Prom can be mega-stressful, so it's super understandable if you have trouble sleeping the night before and wake up the day-of looking a little tired.The quickest way to de-puffing your under-eye skin is to apply a cold, caffeine-based product, like two cold green-tea bags, under your eyes for five or six minutes.
46. Double layer your mascara. Layer waterproof mascara on top of your regular formula to make your mascara last longer and make it easier to remove at the end of the night.
47. Don't just apply blush to your cheeks! Unless you want to look like a baby doll in a horror movie, all-over application is key. Start with color on the apple of your check. Then, brush it along your cheekbone and all the way up to your temple. This will give you a much more natural flush.
48. Load up on dry shampoo. It's not just for second-day hair — apply it immediately after you dry your hair and the texture will help your updo last longer.
49. Use concealer to fake a larger lip canvas. Patconcealer onto your lips, spreading it a little over your lip line. This will make your lipstick go on closer to the color in the tube, and make your lips look larger.
50. Help your mani shine. Before you get your nails done, soak your nails in lemon juice to remove nail polish stains. Lemon is know for getting rid of stains faster than anything else, so the new polish that compliments your dress will be the only one that shows!